Theodor Geisel, affectionately known as Dr. Seuss or simply "Ted," remains one of the most renowned children's book authors of our time. Geisel and his wife of many years, Audrey Geisel, moved to La Jolla in 1953, where they bought an old observation tower high atop Mount Soledad. It was tucked away in "The Tower" that he wrote many of his most beloved and popular stories, including "Horton Hears a Who!," "The Cat in the Hat," "How the Grinch Stole Christmas" and "Green Eggs and Ham."
[Theodor Geisel at work in his studio. Photo courtesy of Dr. Seuss Enterprises, LP]
The "Truffula Trees"
Geisel was notoriously upset about the billboards and construction that threatened his tranquil community of La Jolla. He was incredibly environmentally conscious and concerned about the earth as a whole; this was evident in his multiple political cartoons and subtle messages within his literature. The Lorax, a Dr Seuss book published in 1971, weaves a familiar tale of just that: a good thing gone wrong. The irresponsible, ambitious Once-ler builds a huge, thriving business at the expense of Truffula trees and the creatures who depend on them.
Though much of the scenery in La Jolla is reminiscent of Seussian-style illustration, the trees in The Lorax are particularly notable. They belong to the fictional Truffula species in the book, but the real-life inspiration is called the Monterey Cypress and unique to the California coast. Although they aren't numerous, some have been dated at two thousand years old!  A lone Cypress can still be spotted at Ellen Browning Scripps Park – ask any local La Jollan where the "Lorax Tree" is, and they'll surely point you there. Geisel could actually see that exact tree from his mountaintop home.
The Spires of Hotel Del Coronado
Just to the south of La Jolla, you can see another one of Dr. Seuss' real-life inspirations firsthand: the Hotel Del Coronado. Ted Geisel's painting, aptly titled "I Dreamed I was a Doorman at the Hotel del Coronado," is a colorful rendering of the 1888 Victorian hotel in its beachside setting with sharp angles, whimsical colors, and an eclectic feel. The doorman is just a tiny speck in the middle of whirlwind of activity and color.
The Del's bright, red-shingled roofs and storybook style make it something of a fairytale castle, something that surely inspired Geisel; he was fond of all things whimsical (in fact, the word 'Seussian' is actually in the dictionary!). He could also see the hotel directly from his Tower perch atop Mt. Soledad.
One Fish, Two Fish…
"The Cat in the Hat," published in 1957, features a rather odd-looking and disgruntled orange fish (referred to as Mr. Krinklebein in the TV show, but referred to simply as "The Fish" in all of the books) with a high-stress personality who is constantly trying to restore order in his home. It's arguably his most famous child 's books, and Dr. Seuss only needed to look out into the bay to see his inspiration for this one – the State of California's colorful and precocious Garibaldi fish. Though found frequently in La Jolla, the bright orange fish is rarely seen in places away from the southern California coast. And interestingly enough, they are usually aggressive defenders of their natural territory – much like its textual counterpart!
"The Fish" character appears in other stories and almost every other Seuss book, and they always play a similar role: an overly nagging, moralistic creature that admonishes any type of wrongdoing. Geisel actually once referred to his book's fish character as "my version of Cotton Mather," the Puritan moralist who advised the prosecutors during the Salem witch trials.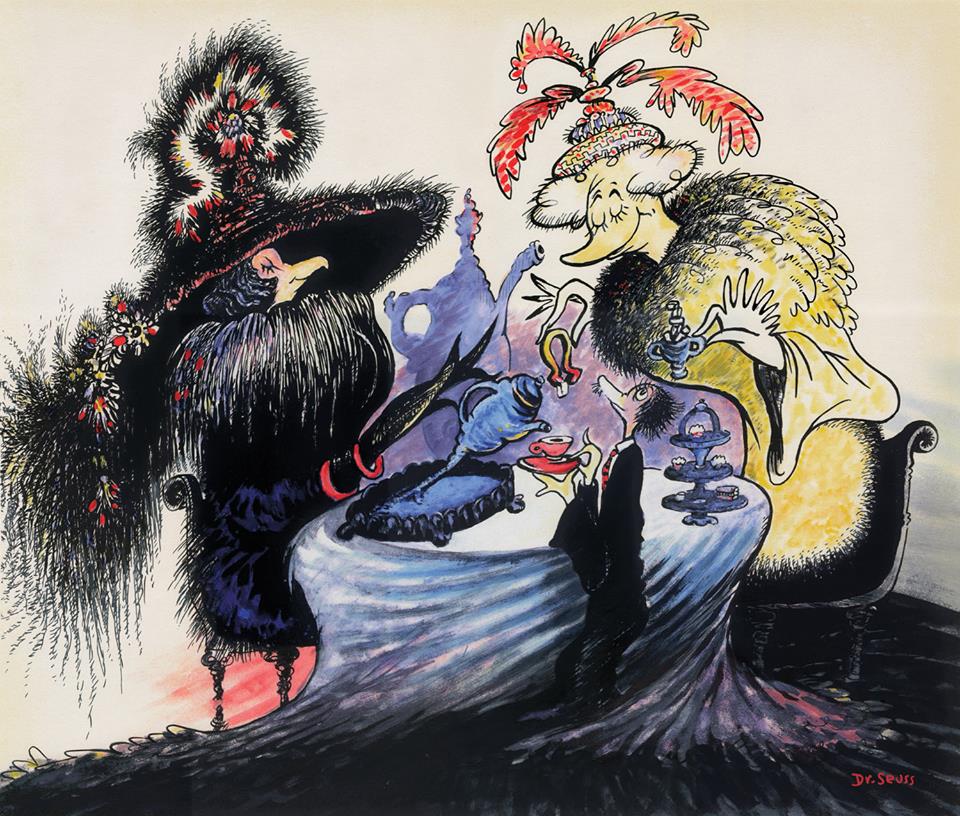 The La Jolla Birdwomen
In the 1960s, Seuss drew a series of illustrations titled "La Jolla Birdwomen." They were gently but decidedly satirical, comparing the many birds of La Jolla with the upper-class socialites in La Jolla – a vehicle for another bit of Geisel's spicy social commentary. As one of the few men in town who worked from home, Geisel lightheartedly considered himself a "bird watcher on the social scene, always looking to create gentle spoofs of his chic female friends taken up in their whirl of luncheons, parties, and charity balls."
The Birdwomen series consisted of eleven paintings with comical titles and equally captivating captions: My Petunia Can Lick Your Geranium, Not Speaking,Martini Bird, Gosh! Do I Look as Old as All That!, View from a Window of a Rented Beach Cottage, One of the more direct titles simply exclaims "Oh, I'd love to go to the party, but I'm absolutely dead." The subtle social jabs became characteristic of Geisel even in the later years, though other than "The Lorax," many of them remained less popular than his other, more lighthearted works.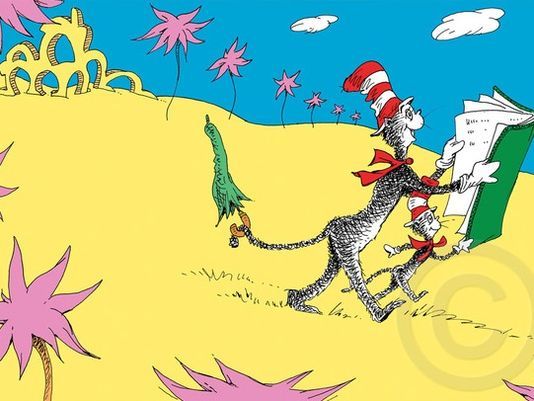 Ted Geisel won a special Pulitzer Prize in 1984, a testament to his enduring legacy. His children's literature, and all of the creatures within his children's books, are indelibly etched in millions of children's imaginations around the world. From "One Fish, Two Fish, Red Fish, Blue Fish" and "The Cat in the Hat" to "Green Eggs and Ham" and "Yertle the Turtle," Seuss has truly captured the whimsical, fantastical world of a child's imagination. The realm of children's books would be incomplete without his works of art, and his ties to San Diego and La Jolla California are indisputable – from the quote on the Coast Walk Trail to his very own art exhibit at the Legends Gallery – which is why we celebrate Dr Seuss birthday on March 2nd every year!
Today, the most notable memorial to Geisel is UC San Diego's Geisel Library, in La Jolla California. It was renamed in 1995 (four years after his death) in he and Audrey Geisel's honor for the generous contributions that they made to the library and their devotion to children's literature and improving literacy around the world.